Bed & Breakfast
You are very welcome to spend a peaceful night and enjoy an excellent breakfast at 'de Witte Wolk'.

Sanctuary 'de Witte Wolk'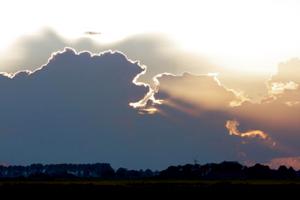 The location:
'de Witte Wolk' is situated just outside the agricultural village of Nieuw Scheemda within the municipality of Oldambt in the province of Groningen: a vast area with magnificent skies, impressive farmhouses, blooming fields of rape seed in spring and golden cornfields in summer.
The name:
Ever since October 1995 we, Jagran and Nirad, have loved living here and have adapted this small hotel to our so very different needs. In 2000 it was named 'de Witte Wolk' (the White Cloud) because of its white walls, the vasts of the sky and its tranquillity, the high clouds, the panoramic views and because the translation of Nirad is 'witte wolk'.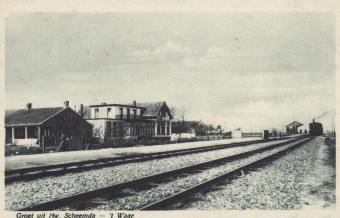 The history:
In days of yore 'de Witte Wolk' used to be a small hotel called 'Hotel Bellinga', situated at a crossroads where carriers with horse drawn carts exchanged their goods for Delfzijl, Winschoten, Groningen and Appingedam and returned home again after a good night's sleep. Later it was called 'Café Smit'.
Until 1934 the railway Delfzijl - Zuidbroek ran along the front of this building where train tickets were sold and where, against its side walls, passengers sheltered waiting for the bus.
This place was also important for village fêtes, meetings of the local bank, theatre companies and the football club.
The old party room (with the stage) now consists of three parts with our bedroom on the south side with a view of the private garden, and the pottery on the side of the road.
The merry-go-round used to be in the front garden during the May fair.
The stable, where formerly the bull, being joint property, was housed, we have converted into an apartment with a therapy / meditation room.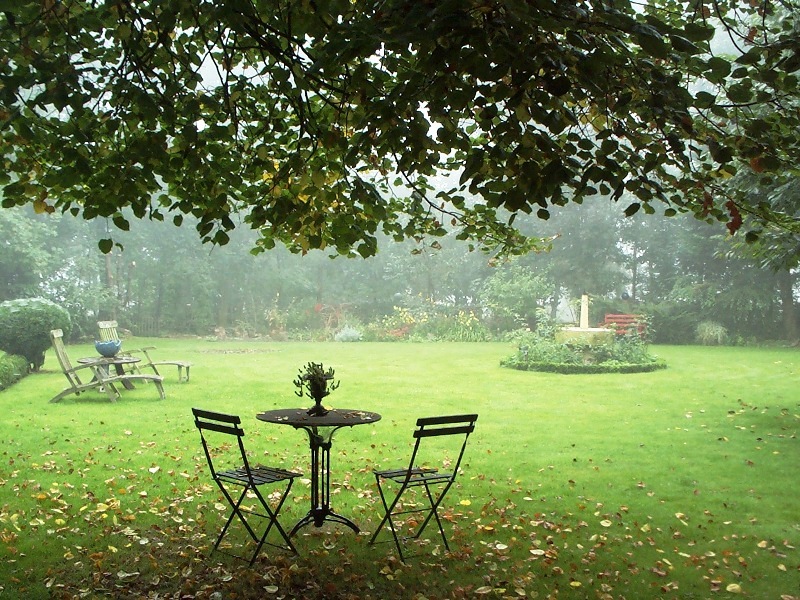 A sanctuary:
After all those years of hustle and bustle silence in and around the house of 'de Witte Wolk' has returned, which is clearly perceptible.
'De Witte Wolk' offers you a place to rest, regain your breath, enjoy yourself, read, write your story or meditate; a place for cyclists, walkers and motorists who have brought their bicycles.
The house is furnished in a light-hearted way including many houseplants and ceramics and statues made by Nirad; the whole is wrapped up in a serene atmosphere. Upstairs are three pleasantly furnished bedrooms available to five guests at the most: 'de Meidenkamer', 'de Bovenkamer' and 'de Blije kamer', as well as a separate toilet and a bathroom with shower, toilet and washbasin.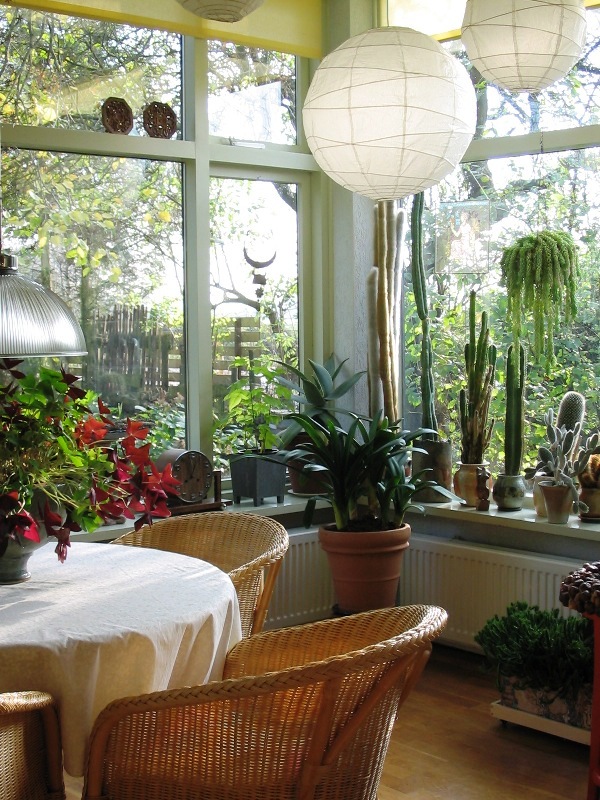 Bed & Breakfast:
'De Witte Wolk' offers you bed and breakfast.
Breakfast is served in the sun lounge downstairs with a view of the magnificent garden or, if the weather is fine, at the picnic table in the garden.

The Garden of 'de Witte Wolk':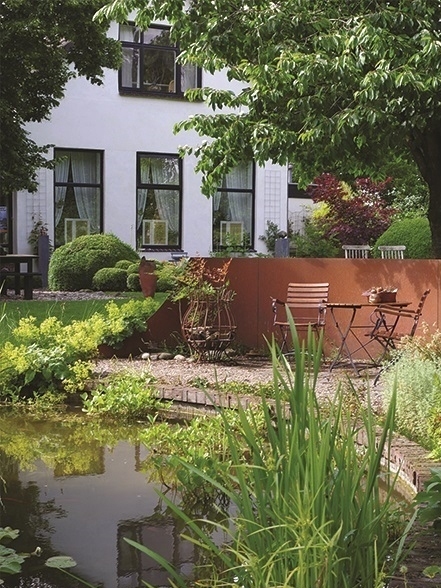 Our impressive garden of about one acre surrounds the house and is open to the public all year round.

This enthralling garden is a place where you can also repose, regain your breath, enjoy yourself, read, write and meditate and, if you feel like it, lend a hand.
You can find more details about our garden, our garden events and garden photos on the web page: the Garden of 'de Witte Wolk'.
Practicalities: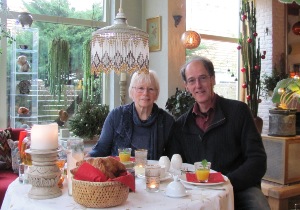 All rooms upstairs have central heating.
The rooms are not equipped with radios or televisions (in order to offer you quietness indoors as well).
Wifi is available on request.
Bicycles can be stored in the built-in garage.

'De Witte Wolk' is not a suitable holiday place for children or babies,
and we can not allow animals, unfortunately.
You can find the itinerary on a separate page on our website. We would love to welcome you to 'de Witte Wolk',
Your host and hostess
Jagran and Nirad.


The guest rooms
All the guest rooms and bathroom are on the first floor.
The staircase takes you to the corridor upstairs.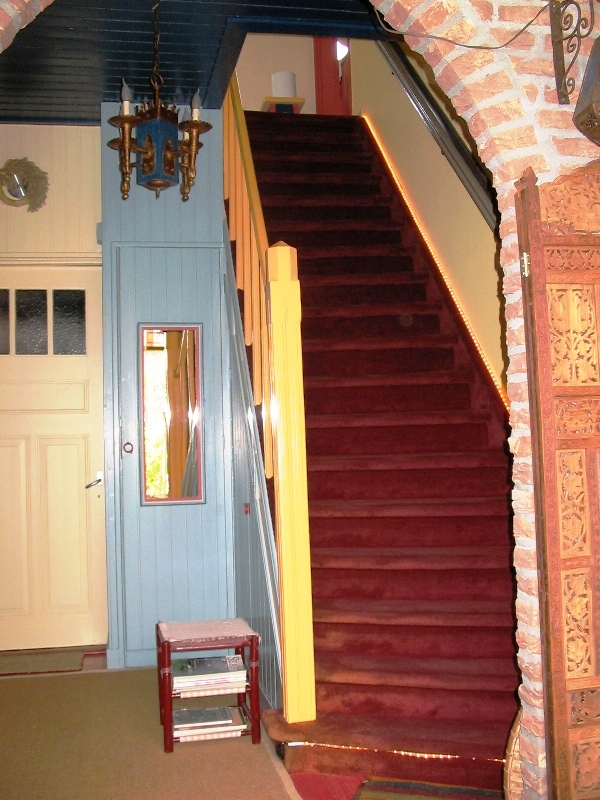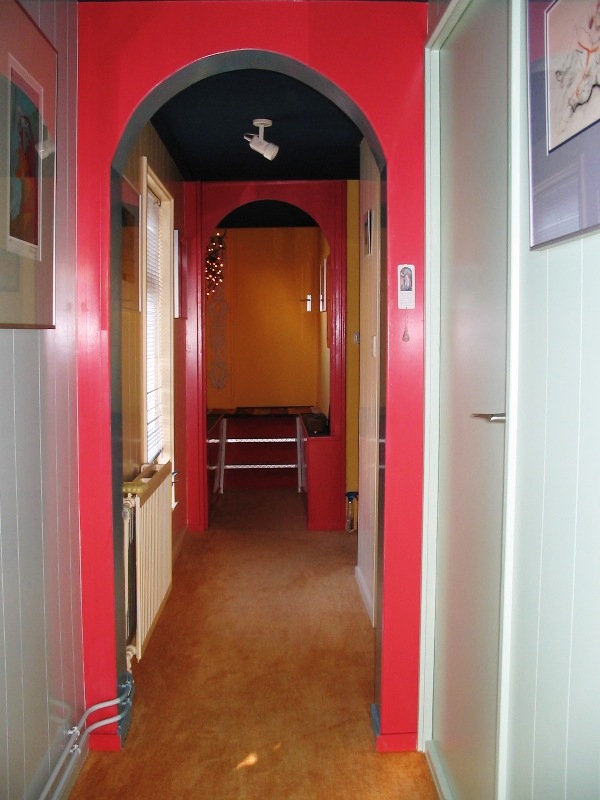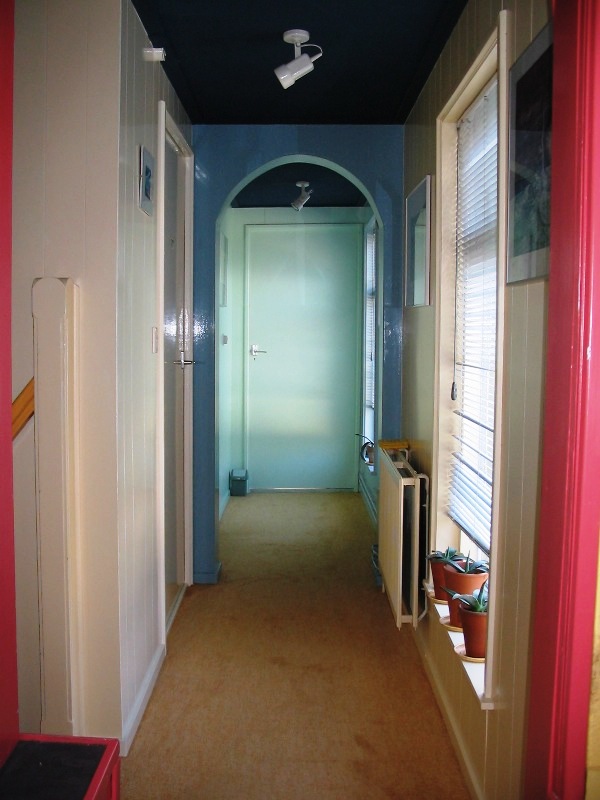 The room with the most magnificent view is 'de Meidenkamer'.
It has a double bed and a washbasin with cold running water.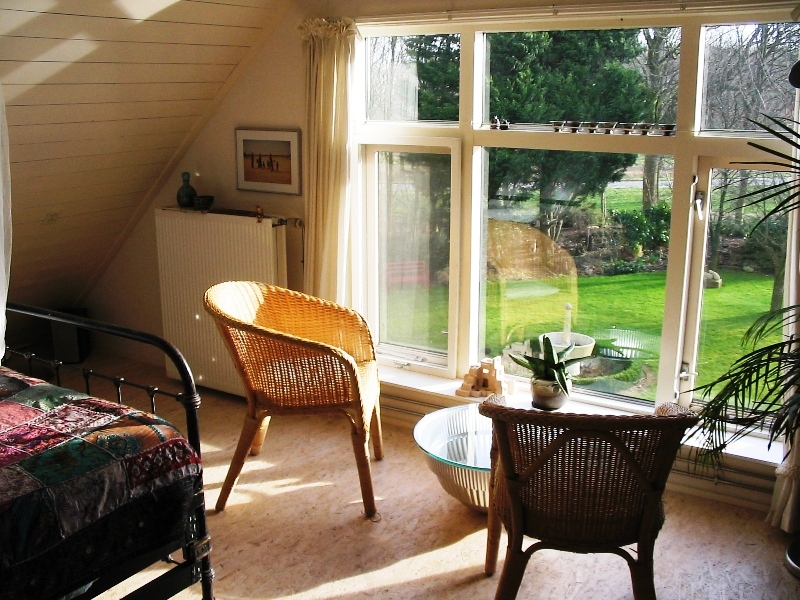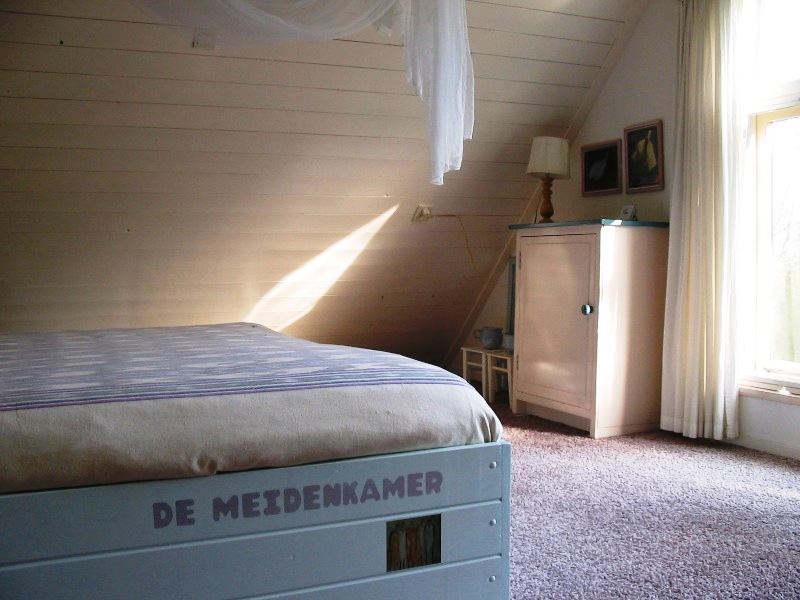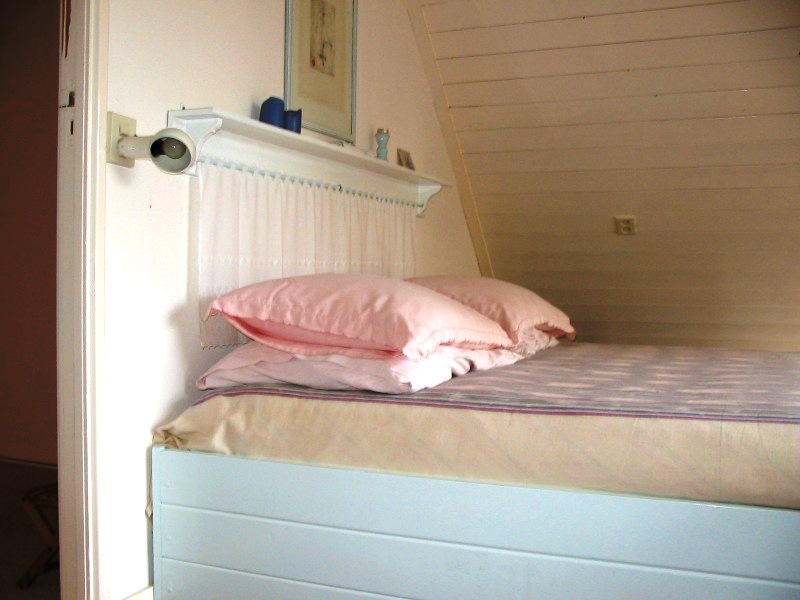 This is 'de Bovenkamer' with two single beds: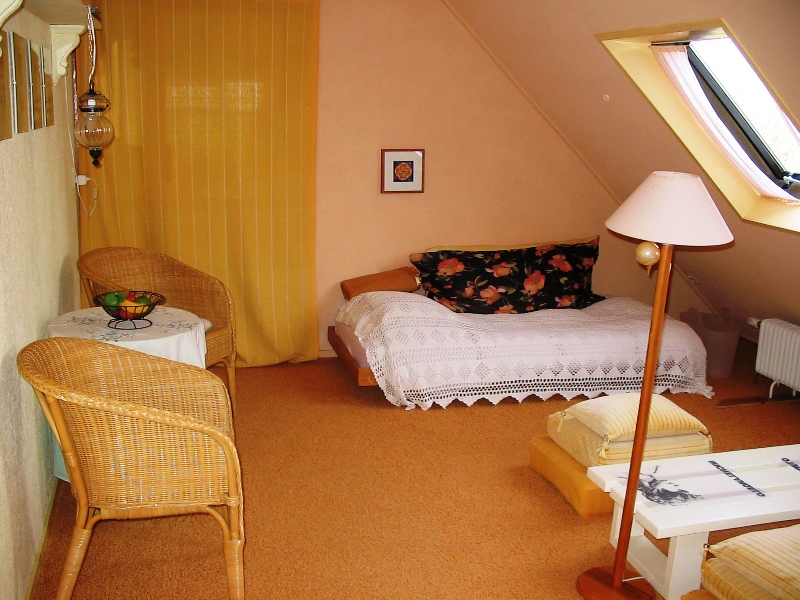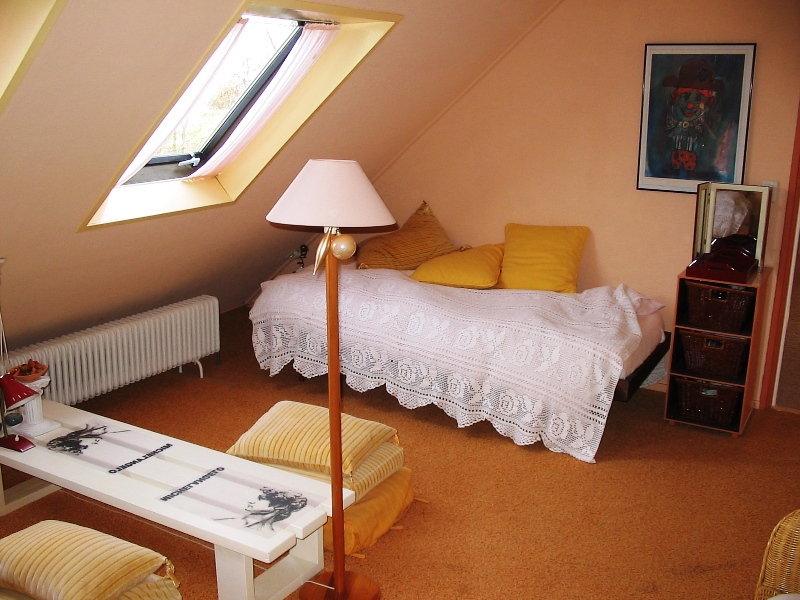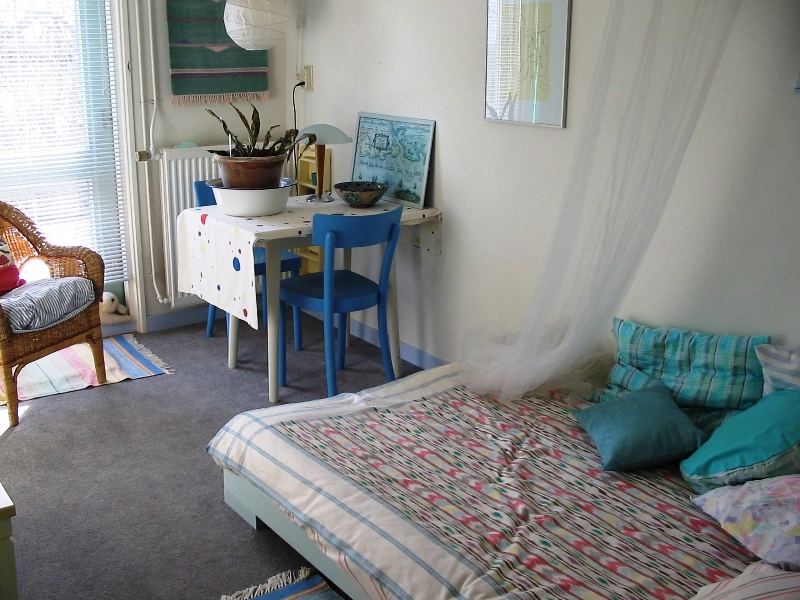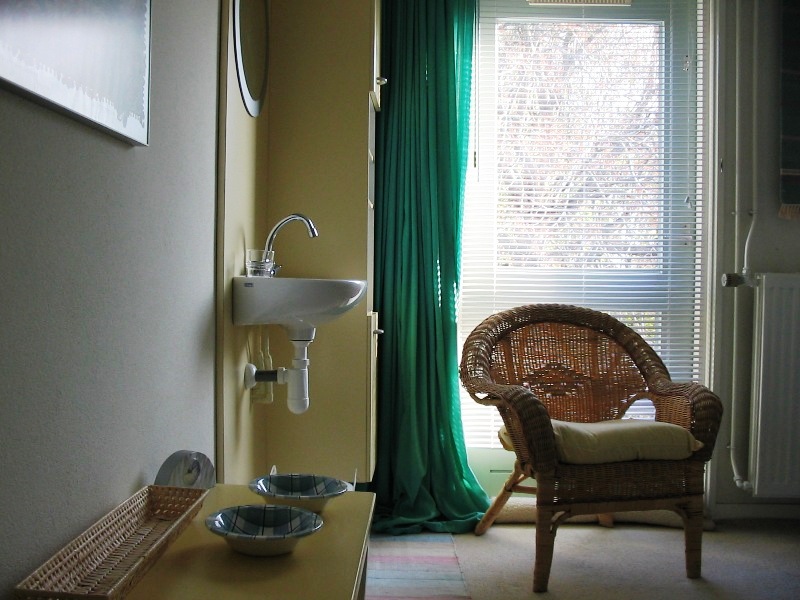 This is 'de Blije kamer', a single room with a three-quarter bed.
It has its own terrace and a washbasin with hot and cold running water.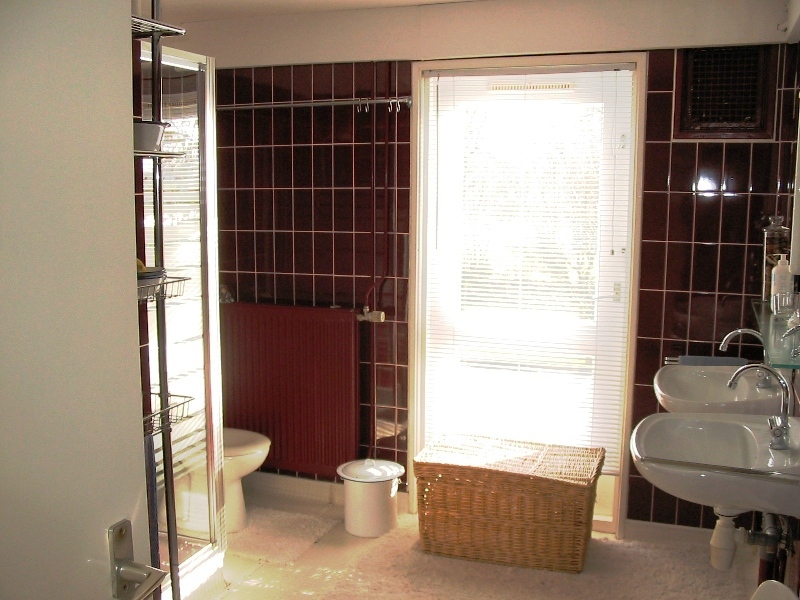 Finally the guest bathroom with shower, washbasin and toilet.
On this floor is also a separate toilet next to the bathroom.

Charges - Information - Booking
Charges for Bed including Breakfast are as follows:
'de Meidenkamer' - € 90 per night, double room shared, € 80 per night single use of double room;


'de Bovenkamer' - € 80 per night, double room shared, € 65 per night, single use of double room;


'de Blije kamer' - € 70 per night for single use.

If you book directly with 'de Witte Wolk' for four or more consecutive nights you will receive a room discount of € 2.50 per night.
The charges are exclusive of tourist tax being € 1.50 per person per night.

If you want more details or book a stay, please contact:
Jagran and Nirad Verbeek-Heemskerk
Hamrikkerweg 132, 9943 PD Nieuw Scheemda
The Netherlands
telefoon: + 31 (0)598 - 446 406.
e-mail: nirad@dewittewolk.nl